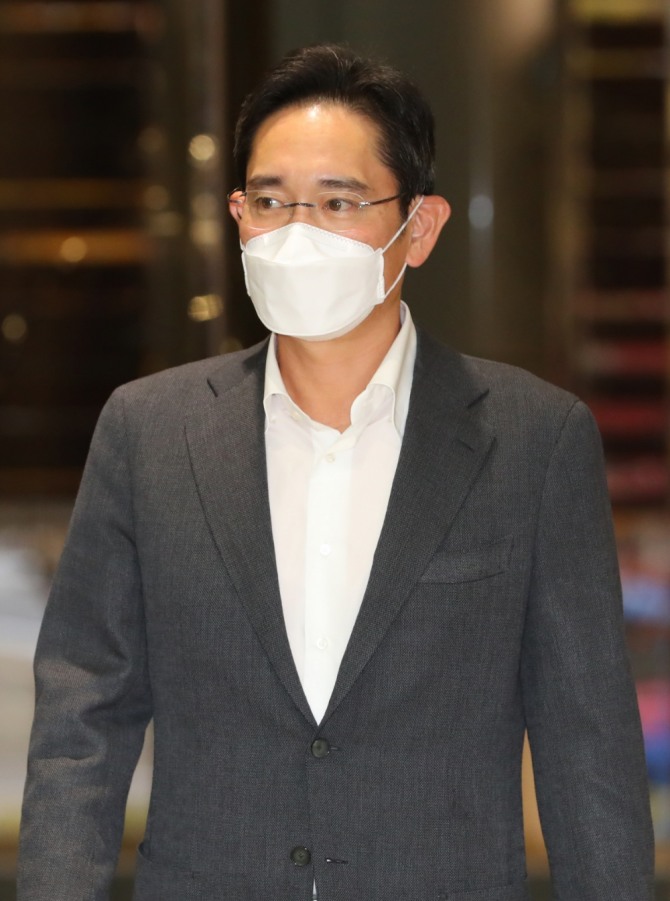 Samsung Electronics has confirmed Taylor, Texas as the construction site for its second foundry plant. It has been 103 days since Vice Chairman Lee Jae-yong's parole on August 13.
Samsung Electronics announced on the 24th that it has completed negotiations with Taylor local governments regarding investment in new chip product lines.
Samsung Electronics Vice Chairman Kim Ki-nam held a press conference at the Texas governor's residence on the 23rd (local time) with Governor Greg Abbott and Senator John Cornyn, and announced the decision on the foundry site.
The new foundry, which will be built in Taylor, will be constructed in the first half of 2022 and start operation within he second half of 2024. The estimated investment amount in construction and facilities reaches about $17 billion. This is the largest amount ever made by Samsung Electronics in the U.S.
Official from Samsung Electronics said, "Through the investment this time, we will expand semiconductor production capabilities to respond to increasing demand for core semiconductor chips and contribute to stabilizing global semiconductor supply chains."
He said, "It is scheduled to be constructed in the first half of 2022 and start mass-production in the second half of 2024. Investment costs, including construction and facilities, are expected to be $17 billion (about 20 trillion won)." It is the largest investment amount ever made by Samsung Electronics.
As Samsung Electronics has announced its U.S. foundry investment plan, completion with the world's No. 1 foundry company TSMC is expected to be fierce.
Samsung Electronics previously announced the mega investment and employment plans in 2019 that it will expand the investment amount to 171 trillion won by 2030 to become the No. 1 in the global system semiconductor market.
As of the first quarter of this year, TSMC topped with a 55% market share, and Samsung Electronics ranked second with 17%.
Following with the operation of Pyeongtaek Line 2, the world's largest semiconductor production facility, in August last year, Samsung Electronics Vice Chairman Lee has confirmed the investment on his business trip to the U.S. It has been about 6 months since Samsung Electronics announced the establishment of the second foundry after the Korea-U.S. summit in May this year.
TSMC has also invested
$12 billion (about 14 trillion won) in its new foundry plant in Arizona, U.S. The semiconductor giant Intel also announced to enter into the foundry market. Intel has invested $20 billion (about 24 trillion won) with the support of the U.S. government, and is currently constructing foundry plants in Arizona and New Mexico.
Samsung Electronics is planning to apply advanced processes to its Taylor plant.
Taylor is 40km away from Austin, Texas, where Samsung Electronics operates its first plant. It is about four times larger than the Austin plant, so it has advantages of adding advanced process facilities later.
Samsung Electronics will apply advanced foundry processes to this new line, and system semiconductors in various fields such as 5G, HPC (High Performance Computing), and AI (Artificial Intelligence) will be produced.
Samsung Electronics expects that it will provide advanced fine process services to global semiconductor customers, who are leading the semiconductor industry related to AI, 5G, and metaverse.
"This year is the 25th anniversary of Samsung's entry into the U.S. The new foundry investment in Taylor will be a foothold for preparing the new future," said Samsung Electronics' Vice Chairman Kim Ki-nam. "Through the new line, we will contribute to the development of local communities such as job creation and education, as well as stabilizing the global semiconductor supply chain."
With this large investment decision, Vice Chairman Lee's leadership toward his vision 'New Samsung' is expected to be further strengthened.
Vice Chairman Lee also met with researchers at the DSA (Device Solutions Americas), Samsung Electronics' semiconductor and set products divisions research institute, and Samsung Research America in Silicon Valley, California. He said, "It is impossible to overcome this huge semiconductor transformation trend by just widening the gap between other companies," and called for them to create a new future that nobody has been through."
By Global Economic Reporter Hyun-ju Han ; translate by Gounee Yang