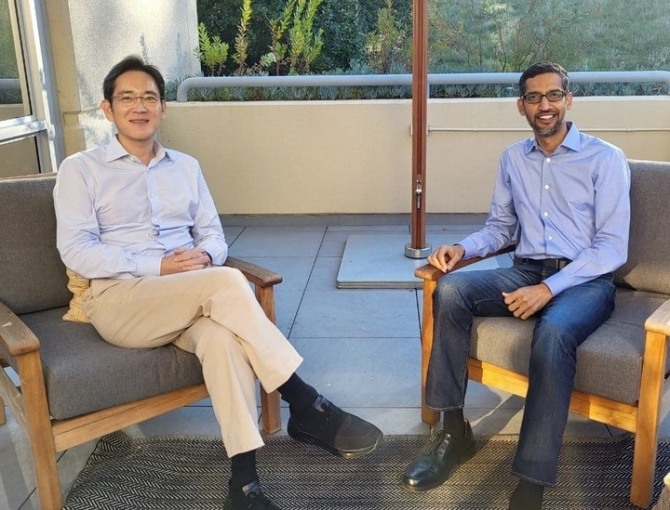 Samsung Electronics Vice Chairman Lee Jae-yong will return Korea from his business trip to the U.S. with a big vision to achieve the 'system (non-memory) semiconductor vision 2030.'
The keywords of Vice Chairman Lee's business trip to the U.S. were 'New Samsung' and 'Future.'
Like the partnership between Apple and Taiwan's No. 1 foundry TSMC, Vice Chairman Lee also met with Google and other 'anti-Apple' alliances to establish cooperative relationships. Vice Chairman Lee will wrap up his business trip by finalizing his decision on new U.S. foundry investments to become the No. 1 global system semiconductor manufacturer in 2030.
According to Samsung Electronics on the 23rd, Vice Chairman Lee met with officials from Google, including CEO Sundar Pichai on the 22nd (local time) to discuss ways to cooperate in next-generation software and Internet of Things (ICT) innovation.
The industry predicts that Google will be the strongest partner for Samsung Electronics, which has declared the 'system semiconductor vision 2030.'
In 2019, Samsung Electronics announced a huge investment and employment plans that it will increase the investment to 171 trillion won by 2030 to become the No.1 in the system semiconductor market.
Google has signed an 'Android partnership' with Samsung Electronics, and is fiercely competing with Apple. In particular, Samsung Electronics is highly likely to produce APs (Application Processors) to be installed in Google's smartphone 'Pixel 6,' which is scheduled to be released later this year.
With his business trip to the U.S., the cooperation between the two companies is expected to be further strengthened in various fields such as system semiconductor, virtual reality (VR) and augmented reality (AR), autonomous driving, and platform development.
It is analyzed that Vice Chairman Lee's business trip was made to prepare foundations to 'maintain its super-gap in memory and become the No.1 in the global system semiconductor market.'
Before the meeting with Google, Vice Chairman Lee visited Microsoft and Amazon to announce his 'New Samsung' vision in the western Silicon Valley, which is called the 'home of global IT innovation.'
Samsung Electronics' sharing and cooperation of strategies related to core industries of the 4th industrial revolution such as AI, cloud computing and mobile are expected to continue further.
Vice Chairman Lee also started to establish a new production base to achieve the vision.
Following the start of operation of Pyeongtaek Plant Line 2, the world's largest semiconductor plant, in August last year, Vice Chairman Lee will also confirm new foundry investments on his business trip. It has been more than 6 months since Samsung Electronics announced its plan to establish the second foundry plant with the Korea-U.S. summit in May this year.
According to foreign media, the city where Samsung Electronics' U.S. foundry will be constructed has been confirmed as Taylor, Texas. Taylor is only 30 miles (about 50 km) away from Austin, where the first plant is located. So it has advantages of sharing existing industrial infrastructure such as partners. The investment amount is almost $170 trillion (about 20 trillion won).
In particular, as Texas has recently emerged as a region for high-tech industries, the cooperation between Samsung Electronics and clients is also expected to be strengthened.
The electric vehicle (EV) manufacturer 'Tesla' and software company 'Oracle' are preparing to move their headquarters from California to Austin. In addition, various big tech companies such as Facebook, Google, and Amazon are reportedly expanding their businesses in central Texas. Therefore, Samsung Electronics' partnerships will expand its business scope in the future.
Vice Chairman Lee also reportedly met officials from White House and members of the Federal Assembly in Washington, D.C., and called for active support from the administration and legislature for the semiconductor industry.
Vice Chairman Lee will return Korea after attending a trial over alleged violation of Capital Market Act, including the merger of Samsung C&T, as early as on the 25th.
By Global Economic Reporter Hyun-ju Han ; translate by Gounee Yang