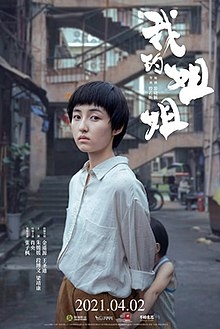 SINCE hitting the market April 2, the film "My Sister" has been warmly welcomed in China and has grossed a very good box office.
Insiders attribute the movie's success to its in-depth retrospection of China's deep-rooted son preference issue, which was once prevalent in traditional Chinese culture and family values, especially in less-developed regions and some areas in Guangdong Province.
The lead heroine in the film is a 24-year-old elder sister named An Ran, who is unwanted or even totally ignored in a son-obsessed family. Because of China's birth control policy at that time, when the sister was young, her parents once forged and submitted a fake medical certificate to the local government to prove that she was disabled so as to successfully get permission to have a second child, a son they had wanted for quite a long time. Unfortunately, the parents later died in a traffic accident and the elder sister, the only adult in the family, had to face the dilemma of raising her 6-year-old brother by herself or sending him to a foster family.
In addition to "My Sister," other movies themed on controversial traditions, family ethics and filial piety such as "Hi, Mom" have also recently been highly applauded by Chinese audience. In traditional Chinese culture, women such as mothers and elder sisters are always the persons who will sacrifice themselves for the benefits of the whole family and male members.
Some people may argue that the film plot is fictitious and does not happen in real situations. But actually the case has already had many parallels in our daily lives. A suicide attempt by a 20-year-old woman March 23 this year in Hangzhou, the capital city of Zhejiang Province, has sparked heated discussion about custody among siblings in China. After investigation, Hangzhou police said the girl, whose parents divorced when she was very young, had to assume the responsibility of raising her younger brother and two younger sisters and left her hometown in Yunnan Province to seek a job elsewhere when she was a teenager. If not born with a silver spoon in her mouth, how can a young girl without good education support herself and three other siblings in modern society? Unable to bear the heavy burden, she decided to take her own life, jumping into a river in Hangzhou.
With the adoption of second-child policy and possible total cancellation of birth control policy in the near future, I think such cases will be more and more prominent and turn out to be a serious social problem in China. Influenced by traditional family values such as son preference, many Chinese parents born in the 1970s and even 1960s are taking the adventure of having a second child. If these parents are unlucky, later divorce or meet with health deterioration, they may lose the competence to raise the young child or even pass away before the sibling grows up.
All is well that ends well. In most circumstances, elder children in these families, especially elder sisters, will assume the responsibility since the role of women in a traditional Chinese family is irreplaceable and always sacrificial. However, whether the elder sister sends her younger brother to a capable foster family or raises him herself, the film "My Sister" does not make a decision and leaves an open conclusion for viewers to ponder.
Sticking to tradition is good, but modern Chinese women also have their rights to pursue their own dreams and happiness during the course of China's modernization. In my point of view, no matter what decision the sister makes, if she can assume the responsibility thereafter, her decision should be fully respected.
By Shenzhen Daily reporter Winton Dong