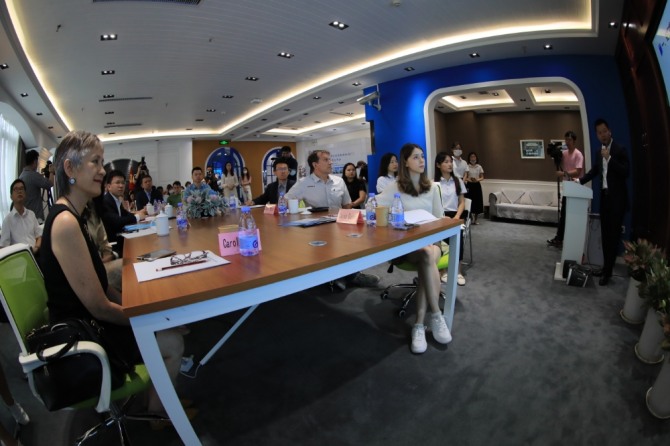 SHEKOU Subdistrict Office on Thursday unveiled the Standards and Instructions of International Block Development to promote its international block construction as part of Shenzhen's effort to build a high-quality international metropolis.
The standards, said to be the first of its kind in China, borrowed practices of Beijing, Hangzhou, Boston, Singapore, Sydney and New York, and were developed from opinions of scholars, expats and residents in Shekou, the city's most popular neighborhood for foreigners.
The standards consist of 57 indexes built on seven core features of an international block, which are openness, governance, integration, unique culture, vitality, innovation and leading industries.
Explaining the standards at a conference Thursday at Shekou Management & Service Center for Expats, Zeng Zhimin, chairman of Tsing Chih International Consulting (Guangdong) Co. Ltd., which helped making the standards, said Shekou could become a model international block of vitality, openness, inclusiveness, ecological harmony, and intelligent technology.
To achieve this goal, Shekou needs to improve its governance capability, form joint efforts to improve civility of residents and levels of international education and medical services, and enhance the strength of its international volunteers team, according to him. Shekou can make itself more livable and friendlier by developing micro-projects and become a magnet for international talent, learning from the development of Silicon Alley.
Silicon Alley is a nickname for a specific tech community on the East Coast of the U.S. in the New York City area. It is a lesser-known example of naming a U.S. tech community where progress on technology has consolidated – in contrast to the much more popular Silicon Valley in the U.S. West Coast state of California.
Shekou is also tasked to tap its cultural potential, forge cultural brands, deepen cultural exchanges, and optimize cultural facilities and environment, according to the standards.
"We are very lucky to live in Shekou, which traditionally has a good environment for expats. It is good that Shekou has formalized its initiatives that other districts can share. It is a very efficient way to spread the ideas," said Caroline Quinn, special adviser of Norwegian Business Association of China who has lived in Shenzhen for 13 years.
Stewart Hansen from New Zealand who has lived in Shekou for six years thought the standards reinforced Shenzhen's vision and position of being a truly international city.
"A city is made up of communities, so it is appropriate to build the vision at the subdistrict and community level," he said, adding Shekou has been a leader in developing an international block.
Shenzhen has launched a three-year pilot program to build 20 international blocks, which will set an example for the city's international block network to be formed by 2025.
The city will complete building at least 15 international blocks by the end of 2022 with great improvements in workplace, life, ecology and humanistic environment, according to an action plan.
Shekou is home to 8,600 expatriates from over 116 countries. There are nearly 30,000 expatriates living permanently in Shenzhen and the number of foreign tourists visiting the city reaches nearly 2 million a year, official statistics show.
By Shenzhen Daily reporter Han Ximin