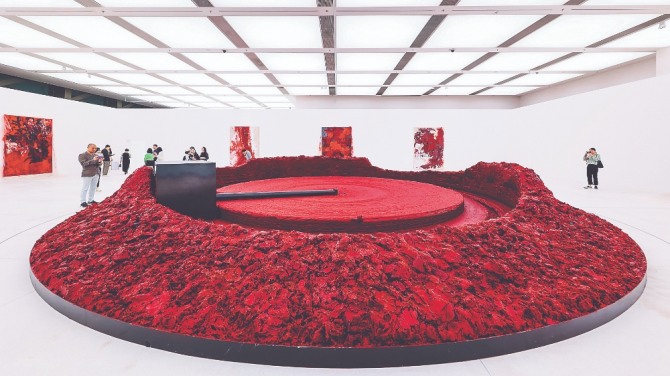 TO prepare his first exhibition in Shenzhen, Anish Kapoor, one of the most distinguished contemporary artists in the world, asked his staff to make a detailed model of the exhibition halls in the Shenzhen Museum of Contemporary Art and Urban Planning (MoCAUP) to try to understand the exhibition space as best as he can. One month before the exhibition opened April 2, the artist held online meetings every day with his Shenzhen staff to discuss the exhibition preparation.
"Kapoor has never been to Shenzhen, but after 17 months' efforts, we finally made his exhibition held here, thanks to Shenzhen's multicultural vitality, our museum's flexible operation model, high-quality facilities and the professional exhibition staff, who came from Spain, France, Singapore, Iceland, Beijing, Shanghai and Shenzhen," said Yan Weixin, curator of the MoCAUP.
Kapoor selected key works he has created over the past 40 years for the exhibition running until July 4. Although there's no information explaining the exhibits on site, his works still attracted many visitors including some who heard about him for the first time.
In the all-white exhibition halls, Kapoor's blood-red installations and paintings, dark blue sculptures with mysterious voids and polished stainless steel mirrors present a visual feast for art lovers and selfie lovers. His fascinations with voids, depth, reflection, light absorption, invisible interiors and the essence of life are all presented in his magical use of materials, making his works mysterious but powerful.
In an online conversation with Yan before the exhibition opened, Kapoor explained a bit about his works, although he suggested visitors "come with an open heart, and allow new things to grow in your heart." He said the exhibition is "open to all the answers, because this is the meaning of art itself."
The first work visitors see upon entering the exhibition is "To Reflect an Intimate Part of the Red," a set of pigment work made in his early days, in 1981. Abstract geometric forms are coated with loose powdered pigments that spill beyond the objects themselves and onto the floor. They "seem to be emerging out of the ground. They are almost like a kind of ritual. Red is the central color, and connects to blood and the body," Kapoor said.
Then visitors may see "Void" (1989) and "Untitled" (1993), two dark blue sculptures. "Void objects have the status of structure, but at the same time, they are not structure. They are not objects or non-objects. I'm interested in this idea of all objects in the world having both physical reality and non-physical reality, of how our bodies are physical and we are present, but the internal body is not present. I'm also interested in space."
Exhibits in another hall could be evocative of flesh and blood. The giant installation "My Red Homeland" (2003) is around 25 tons of wax with a gadget in the center slowly moving. "It makes us think of these big questions: What is the beginning? What is the end? Where would I be before I was born? Where do I go after I die? These are eternal human questions; they are both religious and non-religious," said Kapoor.
Around this work, a series of paintings are covered with gauze or PVC, which "are also to do with redness and the idea of the internal object." Kapoor said that he made paintings as objects and covering gauze or PVC was to reveal an interior and connect to the confusion that we continue to experience the internal and external, about inside objects and outside objects.
As visitors move to the final part of the exhibition, there are a series of mirrors that are technologically precise and clear. Most of them are concave. "Negative mirrors turn the world upside down. They are also void objects, which means that they tell the eyes of their physical reality. They are present and not present. They are asking these questions about the status of objects. That is really my deep concern. The world is full of objects but how are the objects with us? What are they really?"
Born in India in 1954, Kapoor moved to London in the 1970s to study at the Hornsey College of Art and the Chelsea School of Art. A visit back to India in 1979 sparked new perspectives on his birth land. These were reflected through his use of saturated pigments and striking architectural forms in bodies of work.
Kapoor's public artworks are renowned for having engagement with people and the environment, such as his best-known "Cloud Gate" at Chicago's Millennium Park and "Sky Mirror" at New York City's Rockefeller Center. Models of his past intriguing public artworks and architectural projects are also on display at the MoCAUP, Shenzhen's unique cultural venue which integrates contemporary art and urban planning.
One of Kapoor's paintings has been collected by the MoCAUP this time. "The positioning of the MoCAUP finds its resonance with the artistic philosophy of Anish Kapoor. We hope visitors could experience the diverse meanings of 'art' and 'city' in the MoCAUP," said Yan.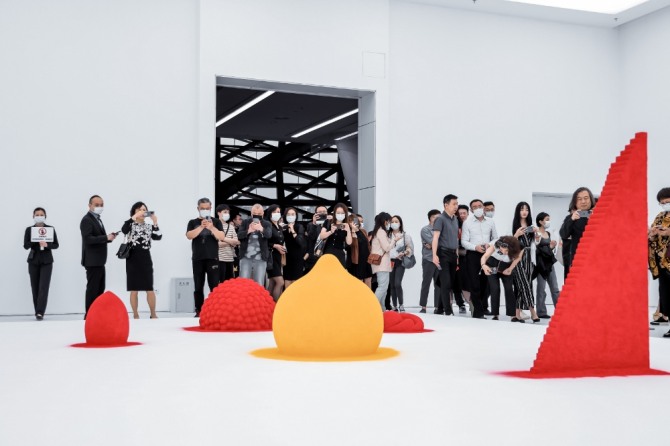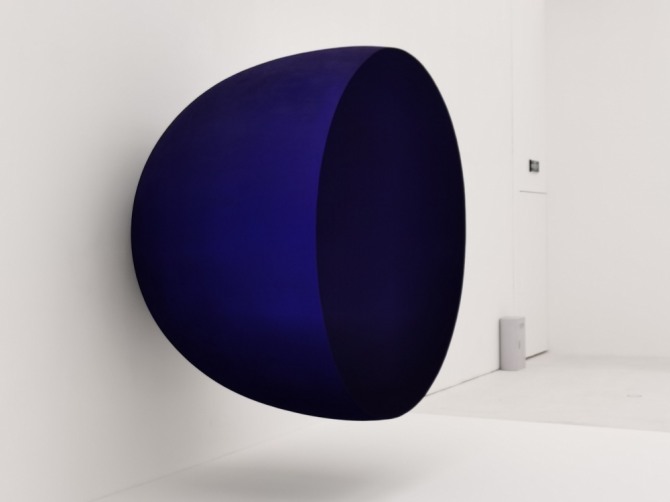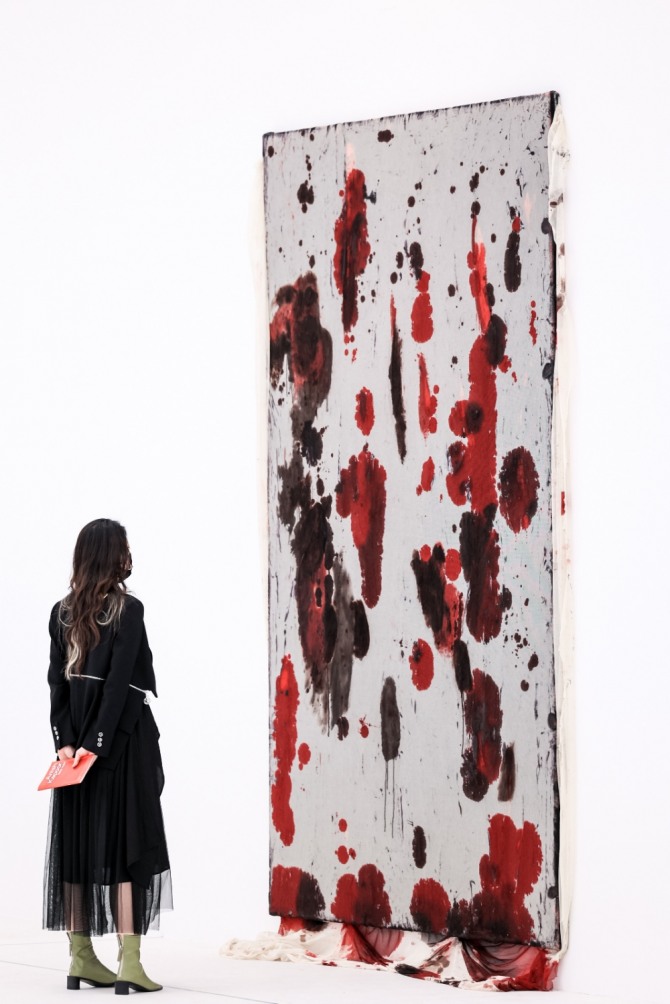 By Shenzhen Daily reporter Cao Zhen